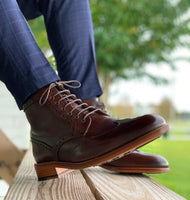 Our Mission
Starting with just a "dream" for our designs, Somiar means exactly that —  "dream." The dream starts in Spain, with our manufacturing family, who have been known to excel in their luxury shoe-making craft for over 40 years. These artisans are the best, as they only produce the best shoes, but also utilize the best fabrics, leathers, and treatments for the raw materials that go into the luxury men's footwear they produce. In the Somiar family, there is a real passion for the craft to manifest the dream that started this company. Treating one another with the utmost respect is what motivates one another to produce our shoes. The craftwork applied to every Spanish leather shoe and boot speaks volumes to not just look incredible, but also feel great.
The love of crafting and delivering uniqueness to not just ourselves, but others remained our mission. We always knew the "threads" in Somiarthreads would come to fruition in new pieces/collections. There were demands to provide more insight to how we styled our boots and shoes. Therefore, we are now able to deliver new articles that will heighten those looks, but also dreams.
Our Vow to You of Quality & Reliability
Somiar's goal is to deliver you the "dream" footwear; the shoe or boot that goes with every article of clothing; is versatile, no matter the life event.; but not just in footwear, we want to extend the comfort and longevity you seek from high-quality, high-fashion, something not so easily found. Our commitment to drive new quality styles to you runs so deep that we will continue to place our efforts to expanding our collections. From the very box the shoes come in, the stitching and each of our individual products, all have been precisely chosen to exemplify our dependability, style, and quality in everything and anything Somiar. You can never 'dream' too big in Somiar.
Browse our collection